Title:
An Ember in the Ashes
Author: Sabaa Tahir


Release Date
:
4th of June, 2015
Publisher:

 Harper Voyager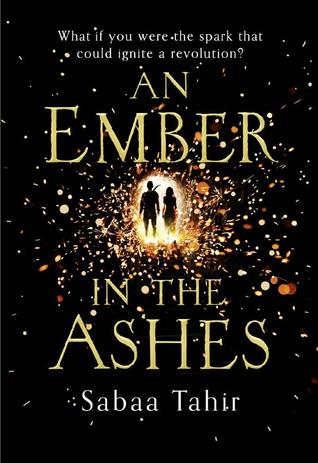 " 
Set in a terrifyingly brutal Rome-like world, An Ember in the Ashes is an epic fantasy debut about an orphan fighting for her family and a soldier fighting for his freedom. It's a story that's literally burning to be told.
Laia is a Scholar living under the iron-fisted rule of the Martial Empire. When her brother is arrested for treason, Laia goes undercover as a slave at the empire's greatest military academy in exchange for assistance from rebel Scholars who claim that they will help to save her brother from execution.
Elias is the academy's finest soldier– and secretly, its most unwilling. Elias is considering deserting the military, but before he can, he's ordered to participate in a ruthless contest to choose the next Martial emperor. When Laia and Elias' paths cross at the academy, they find that their destinies are more intertwined than either could have imagined and that their choices will change the future of the empire itself. Vow your blood and body to the empire. Keep your heart for yourself.
"
Pre-order 'An Ember in the Ashes' below ready for it's release on the 4th of June 2015.

Amazon Link: http://www.amazon.co.uk/Ember-Ashes-Sabaa-Tahir/dp/0007593260/ref=tmm_hrd_swatch_0?_encoding=UTF8&sr=8-1-spell&qid=1431880927
JOURNEY TIME
REVIEW TIME
Here was my initial review on goodreads:
My Goodreads reviews are always done straight after I finish a book so they tend to be a load of gobble-de-gook. I find it hard to put into words how amazing this book is!
Characters:


There are two main characters who alternate chapters, 
Laia
, a Scholar girl who goes to great lengths to save her brother, and
Elias
, a Martial soldier who wants out of his profession as a Mask. I connected to both of these characters and absolutely loved them.
Although I feel sorry for Laia, she can definitely hold her own. She is a breathe of fresh air, playing slave when she needs to, but having the skills of a free woman, such as reading. There were times when I disliked her for being so naive, but I suppose this is a common fault and allows for character development later in the book. Her character development is huuuuuuge in this book, so I can't wait to see what awaits in Book 2.
As for Elias, he is complex. He is an evil, bloodthirsty, rapist, killer right? WRONG. Masks are trained from the age of six, against their will, so you'd think they'd know nothing different from being evil. But Elias is different, a character that develops so openly throughout the book. From the beginning he is in a struggle between choosing the Empire and choosing Freedom. He wants to be free, he doesn't want to be known for how many kills he has made. He has a heart, a warm, kind, slightly torn heart. Enter Helene.
Helene likes rules. She is regimental and has unshakable trust in the Empire. Her and Elias have been looking out for each other since day one. I love Helene's loyalty, she is like an effing Labrador! She may love the Empire and it's rules but she loves Elias more. The emotional journey Helene goes through is unbelievable, from best friend zone, to okay maybe I like you, to OH SHIT I LOVE YOU. She is a key character within this book, not to be overlooked.
Ah
Keenan
. The rebel fighter who at first is dodgy and dislikes Laia for some unknown reason, but then redeems himself. I had a love/hate relationship with this character. As a reader, at the beginning of any book, you're scoping out the characters, pinpointing good and bad, loyal, disloyal etc. For me, I pinpointed Keenan from the start. I felt that I couldn't trust him, he was sly, he was shifty. Maybe it has something to do with the fact that I totally 'ship Laia and Elias (Lelias?)
Izzi and the Cook are amazing characters. The Cook is horrible to begin with, but you begin to understand why she is the way she is. In the end, she really redeems herself and you love her for it. Izzi is amazing, frightened but amazing. She wants to be free, she wants a friend.

Well, the Commandant has to be the Grade A best villain I've ever read about, just behind Lord Voldemort. Like seriously, the one tender moment where you think she is going to show a little humanity… NOPE. She can't even let the reader have that satisfaction! An unbelievably mean character that makes your skin crawl.
Plot:
Although living in the same World, under the same Empire, Laia and Elias couldn't have more different experiences. Laia is just a Scholar girl, which means she is seen as dirt, a slave, not even a human being. Whereas Elias is from one of the most prestigious Martial families in the Empire, even if his mother despises his existence. 
I felt like you had Elias' insider perspective into the Empire and what he has to go through, and Laia's outsider-looking-in perspective and what she has been through/is going through.
The World is hard to understand at first, but like most Fantasy books, soon you're living within the World as if you've been there all of your life. I could visualise the entire landscape and scenery, despite the minimal description. I'm a reader who thinks too much description of a place doesn't leave enough to the imagination, so I loved the small, measured amounts of description in this book.
The book is split into 3 parts:
Part 1 – The Raid
Part 2 – The Trials 
Part 3 – Body and Soul
The majority of the book centres around The Trials and believe me, they are some crazy ass trials. I won't go into too much detail about them so I do not spoil you. There are 4 contestants in The Trials, who go through 4 incredibly twisted tasks and must come out alive in order for a chance to win.
Meanwhile, Laia grows accustomed to slave life and what that entails. She pulled the short straw when she became the Commandant's slave, but it is all for a greater cause…to save her brother's life. He is everything to her, family, strength and courage.
Finally, the major thing you need to know about the plot is…a cliffhanger ending. This book was at first marketed as a standalone, however it has recently been revealed as the beginning of a series! EEEK! I'm so excited for the next one, I need it like NOW! And you will too, hurry along and read this one first!
My overall feelings after reading this book are…
I cannot express how much I need a sequel to this book. I feel like the adventure is only just beginning for Laia and Elias. I am so hyped about this book, it's unbelievable! You MUST read this book like right now, it will bow your mind!
RATING TIME
Finally, i'd like to give a huge THANK YOU to Harper Voyager for sending an ARC copy of this amazing book out to me. This has in no way affected my review because it is an unbelievable story and I want more! Thank you so much for the opportunity to review it before its release on the 4th of June 2015. GO GET YOUR COPY NOW!